Miss Chocolat in the press:
2017
Futurs recomposés au passé, Le Droit, Valérie Lessard, 16 juin 2017
2016


Miss Chocolat turns 15!
Culture Géniale 94.5 UniqueFM meets Miss Chocolat for her fifthteen! (Link to be announced).
For Valentines'Day : Miss Chocolat on Entrenous on TV Rogers!
February 2016
Miss Chocolat is in Québec Le Mag', hiver 2015-2016, 48 heures à Ottawa Gatineau, Philippe Renault
2015

Une entrepreneure qui fait son petit bonhomme de chemin pour la nature! By Claire Charron, Bulletin vert l'action, February 2015

Miss Chocolat at CTV Morning Live with Lois Lee. January 2, 2015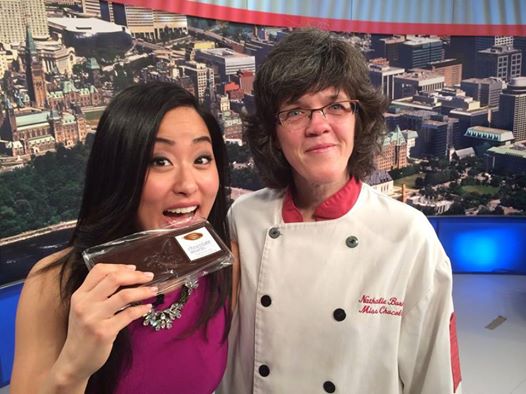 2014

Un week-end à Gatineau, Véronique Leduc, Canoe.ca, December 12, 2014
24 heures à Gatineau, Les coups de coeur touristiques de Michel Julien. November 12, 2014

Miss Chocolat on Bouffe Resto et cie to be watch all summer on MA TV.


Hull, beyond the bars and government blocks, Neighbourhoods 2014, Ottawa magazine

2013
Watch Miss Chocolat!:
Miss Chocolat on CTV Morning Live Febrary 1st 2013
'' Miss Chocolat in Gatineau was recently named as having some of the best chocolate in Canadian Living magazine.''

Regional Contact on CBC meets Miss Chocolat aired at 6:30pm December 11th, 2011.

Le 17 mars, portes ouvertes chez Miss Chocolat! By Michel Julien March 16, 2011
in Attractions touristiques, Outaouais

Discover Miss Chocolat's secrets with Maryse Lemieux in this interview.
Miss Chocolat by Tourisme Outaouais! March 2013
Where to find the best chocolate in Canada By Canadian Living, February 2013

10 chocolateries à faire fondre l'hiver Par Caroline Fortin dans Châtelaine de février 2013

2011
Rencontre du mois, Zoom Outaouais, Le mensuel de l'industrie touristique de chez nous, December 2011

What to do while visiting the Outaouais : Des vacances à croquer, Enfants Québec, July-August 2011, p.78

Stylish Vieux Hull is a far cry from old Hull, The Gazette montrealgazette.com · Saturday, May 14, 2011, Rochelle Lash

Un Québec fou de chocolat ! www.cyberpresse.ca, Publié le 20 avril 2011

Miss chocolat is ten years old!

Rethinking chocolate from the Ottawa Style Magazine Spring 201. By: Daniel Drolet, photos: Brigitte Bouvier

Sortir avec son ado… en Outaouais! In Québecvacances.com. By: Lyne Voyer, 18 mars 2011

Anne DesBrisay recommands Miss Chocolat in Capital Dining 2011.


2010
Children's workshop at Miss Chocolat:
Relaxe, c'est la semaine de relâche ! at L'après-midi porte conseil with Dominique Poirier at la Première chaîne of Radio-Canada radio

Les suggestions de Jean, Je suis en amour... gatineau.rougefm.ca, September 30, 2011

Une activité chocolatée, La Revue, Wednesday April 21, 2010

Le voile levé sur cocos et choco, Le Droit of April 2nd, 2010. By: Philippe Orfali

In Elle Québec of April 2010, read «Zen et Gourmand» about our beautiful region.

Discover Miss Chocolat in Vita of March 2010. By Annick Duchatel Photos: Christian Lacroix
Some recipes of Miss Chocolat from Vita magazine, March 2010
2009
Le Rendez-vous des saveurs, c'est en fin de semaine. Déjà!, October 1 2009. Pierre Jury Le Droit.

Fabriquer son chocolat de Pâques. Touring Soring 2009, page 6.
2008
Une douzième année à s'en lécher les doigts, Daniel Leblanc, Le Régional October 2008

Quand le chocolat se déguste comme... le bon vin! LeDroit March 15 and 16, 2008. Julie Gagné p. A21

Une philosophie chocolatée pour Miss Chocolat!, Info07, Outaouais February 29, 2008

Miss Chocolat, candidate au RÉFAP, January 2008
2007
Chocolatiers d'un jour à Gatineau, La Presse, November 17, 2007

Une invitation à s'en lécher les doigts!, Info07, Outaouais, September 13, 2007

Des chocolateries exceptionnelles, La Presse, March 31, 2007

2006
Miss Chocolat celebrates 5 years!
2005
Prix passage

Gâtez-vous dans l'Outaouais pendant les Fêtes! Québecvacances.com, December 2005

Passionnés du chocolat, From an article published in Châtelaine in december 2005

Les chefs générent 12 000 $ pour Radio-Ado, Outaouais,Mag, April 2005, p. 15

Chocolats piquants, herbacés, floraux, salés, poivrés ou épicés, Le Droit, February 11, 2005.
2004
Gatineau ose en rose, LeDroit, December 1st, 2004, p. A3

Prix Excelor : 34 finalistes pour 11 prix, Bonjour Dimanche October 26, 2004.

Rendez-vous des saveurs 2004

Miss Chocolat, contestant at RÉFAP, March 2004
2003
Shopping gourmand, VOIR Gatineau/Ottawa, by Christine Moisan, December 11, 2003

Petits et grands bonheurs d'une chocolatière. Le Régional, Marie-Eve Bouchard, November 2003

Des saveurs surprises et agréables Le Droit September 29, 2003.

La fête gastronomique outaouaise s'en vient, Week-end Outaouais, Marie-Eve Bouchard. September 20, 2003, p. A10

Parlons de chocolat! Zoom saveurs, Le Droit of April 11, 2003.
2002
Discover our delightful region in: «Rendez-vous des saveurs» 2002.

Le divin cadeau du chocolat : La délicieuse passion de Miss Chocolat, Nathalie Borne.

L'Outaouais bien représenté. La Revue, June 2002